About the authors of Jutoh
Anthemion Software Ltd. is a small software house based in Edinburgh, UK. Edinburgh has a strong literary tradition, being home to such writers as J.K. Rowling, Ian Rankin, Alexander MacCall Smith, Sir Walter Scott, and Robert Louis Stevenson.

We have been helping writers for ten years with our Writer's Café software. We also sell tools for software developers, in particular DialogBlocks and HelpBlocks.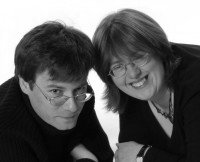 Dr Julian Smart is technical director of Anthemion Software. He is the founder of the wxWidgets project, a construction kit for applications that run on a variety of computer platforms. Former employers include Red Hat UK Ltd., and the Artificial Intelligence Applications Institute at the University of Edinburgh. You can read his blog here.
Harriet Smart is creative director of Anthemion Software. She has written five historical novels and one contemporary novel, five of which were published by Headline. She holds an MA in TV screenwriting. Visit her site at www.harrietsmart.com for information about her novels. You can follow her at twitter.com/FictionWitch.
---
© 2019 Anthemion Software Ltd.