Installing Jutoh on Mac
To install on a Mac, click on the .dmg file on the Jutoh Download page to download it, and then double-click to open it. The disk image will open and reveal a versioned folder containing the Jutoh application. To install, just drag the Jutoh icon to the Applications folder (or anywhere else on your system such as the desktop). You can now 'eject' the Jutoh disk image in Finder to close it.

If you're installing on Mac OS 10.8 (Mountain Lion) or above, you need to use a different method when you first run Jutoh, because Jutoh is not a 'signed' application. This is the dialog that appears when you first try to run Jutoh: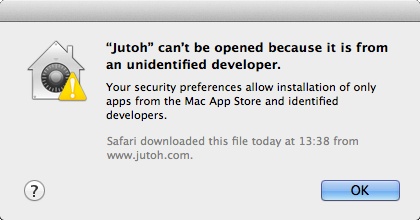 To get around this, control-click over Jutoh's icon and select Open from the menu, and then in the dialog illustrated below, click on the Open button. You won't be prompted again for this Jutoh release.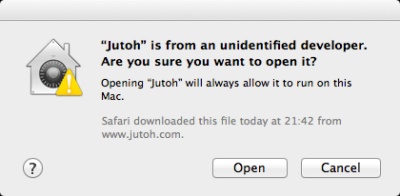 You may also get another warning informing you that Jutoh was downloaded from the Internet, as below.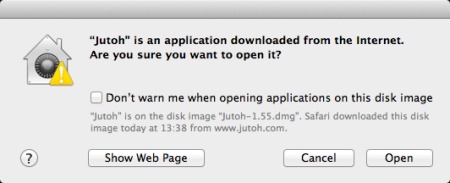 Click Open to run Jutoh.
To uninstall Jutoh, just drag the Jutoh icon to trash can.
Why is Jutoh not signed?
Signing requires an Apple developer account, to which we choose not to subscribe. However, we may decide to sign our applications in the future for the convenience of our customers.